Work-life balance has changed. These days it's not about clocking in then logging off, presenting then partying, or even weekdays and weekends. It's about undivided, seamless living shared with the people you love the most. So why can't hotels keep up?
This evolution calls for a different kind of accommodation – and a new way of being. One where boundaries are less distinct, yet more important than ever. Where simplicity and flexibility is everything. Where time is well spent.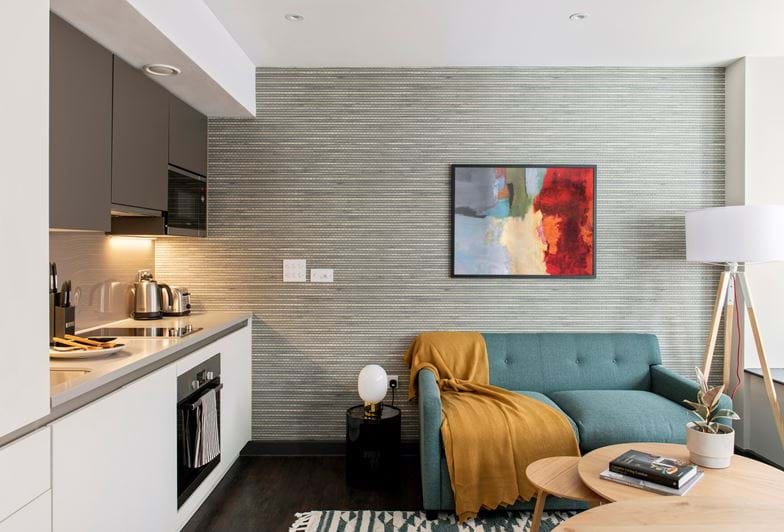 Say hello to Cove: edyn's elevated, fuss-free answer to the new work-life balance.
Discover carefully designed, uncluttered serviced apartments that let you, your friends and your family make the most of every moment. Flow from one mode to the next without interruption. Work comfortably. Live efficiently. Blur borders and be together, but with enough space for you. Go from day to night, online to offline, me to we. Seamlessly.
Maybe you're looking for a short-stay apartment while settling into a new city, staying away from home for work, or enjoying an extended holiday? Or it could just be you're ready for an alternative to traditional renting – a more flexible set-up that lets you and your family live and work wherever you like?
Cove comes with all the home comforts, and none of the hassle.
Get more space than a hotel room with a studio, one bedroom, or two – and have your friends or family stay on the sofa-bed. Stay on top of your laundry with your own washer-dryer and get organised with luggage storage. Cook up a storm in your own kitchen and save those eating-out expenses. Forget perching on the bed: you'll have a separate living area where you can work at the table with super-fast, privately-secured Wi-Fi, or relax on the sofa in front of your smart TV. Come and go as you please. Invite whoever you want. You can even bring your dog.
Plus, unlike fixed tenancies, you get to pass on stress-inducing extras like utility bills, furnishings and living essentials. Ditch the deposit, pay by the day, and leave when you like.
After all, this is your home from home. A place where you can all live, eat and work completely autonomously. Where you'll have the things you really care about, so you can carry on the way you do at home – essentials like super-fast WiFi, ergonomic seating, soothing lighting, high-quality kitchenware, laundry facilities, and even shared gyms and lounges in some of our locations. All this wrapped up in an stylish, uncluttered aesthetic that's both beautiful and functional.
With a serviced apartment, you're less like tourists and more like locals.
Explore your new neighbourhood independently, share your discoveries with other guests, or get inspired with our insider tips for every area. Have as much or as little contact with other guests as you like, but know that help is never more than a few taps of a button away.
With flexible, adaptable and personal apartments for individuals, couples and families in Liverpool, Manchester, London, The Hague and Amsterdam, with more across the UK Europe opening soon, Cove is the new way to make life work.